Uriah Cottle came to the area in 1835, staked his claim, then returned to Virginia to persuade a group of friends to join him in settling here. The group arrived in 1836, and Charles McClure and his son John made their home on this piece of land. The burying ground was begun almost immediately, when the infant daughter of Cottle and granddaughter of Charles McClure died in the fall of 1836.
This little community was called the Virginia Settlement. Officials of the time in typical bureaucratic fashion decided that wasn't a suitable name and Ridgefield was chosen as a substitute. However, the cemetery continued to be known as the Virginia Settlement Cemetery for many years before adopting the name of the nearby village.
Despite its small size, the cemetery can be confusing. Gravestones on the west side face west, while the remainder are generally facing east. Some of the lots are set at an angle as shown in the accompanying map. Quite a few lots disappeared when part of the cemetery was paved over to provide a parking lot. Lots 2 through 9 in block two were reserved for potter's field burials. Visitors should note that the listing for the cemetery begins at what certainly appears to be the back the cemetery. The west half of row A along the western border is actually in Dorr Township , but this is considered a Nunda Township cemetery.
Among the notable features here is the only full figure life size human statue gravestone in the county. It stands regally at the top of a tall monument. Although not clearly identified, it marks the Baldwin family lot and presumably is a depiction of W. A. Baldwin. Although there are quite a few early burial dates on the family monument, these appear to be merely memorials. There is no trace of the family in the county prior to 1870.
The lack of records for the cemetery is a source of deep frustration for many researchers. The caretaker of the time boasted his memory was so accurate that he did not need written records, and with his death all information was lost. Most of the small amount of additional information we have comes from efforts by Nunda township officials to research known burials when they took over cemetery management in 1968.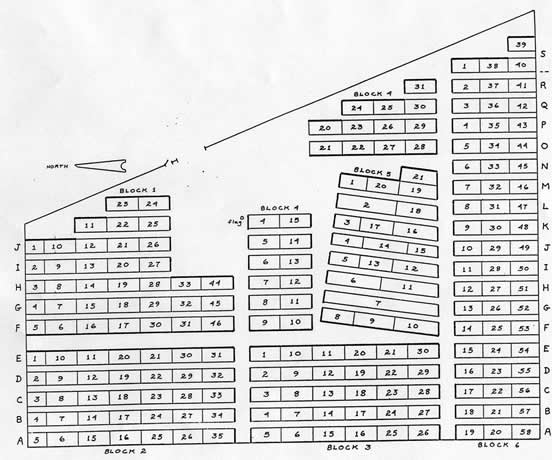 Sign up for our E-Newsletter